WE CHOSE THE BEST PIZZERIES ITALIAN RESTAURANTS
& GRILL RESTAURANTS
AT POROS
SEA FOOD TAVERN
BEER PUB IN PUNDA
ITALIAN RESTAURANT
(AND DELIVERY)
GRILL-RESTAURANTS
(AND DELIVERY)
PIZZERIA-PASTA
(AND DELIVERY)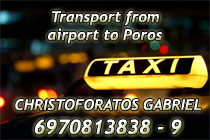 Suites & Spa
Heated pool with ozon,
gym, hydromassage,
hamam, sauna, massage,
body and facial treatments
The 'Lemon Forest' is a big
area full of lemon trees with
lots of waters and waters mills.

The forest leads to Plaka and Alikes
with sandy beaches facing "Bourtzi".

From the top, the view of
'Lemon Forest' is panoramic.

It is the most praised site of Poros
in the Greek cinema films.
BOAT SUPPLY
DIESEL or PETROL

BOATS SUPPLIES
EVENTS AT POROS ISLAND
WE CHOSE FOR YOU THE
BEST TAVERNS AND RESTAURANTS AT POROS
GREEK CUISINE
AT ASKELI


GREEK CUISINE
AT NEORIO
GREEK CUISINE
AT THE HOTEL
SIRENE BLUE RESORT
GREEK CUISINE
AT KANALI
FISH TAVERNS AT POROS


TRADITIONAL TAVERNS
AT AGIOS GIORGIOS
COUNTRYSIDE TAVERN
IN FOUSA

With car in 1 hour
and 45 minutes

Speeches
Cultural Events
Concerts
Exhibitions
Gallery

Ferry Boat
Flying Dolphins
Buses - Timetable