WE CHOSE THE BEST PIZZERIES ITALIAN RESTAURANTS
& GRILL RESTAURANTS
AT POROS
SEA FOOD TAVERN
BEER PUB IN PUNDA
ITALIAN RESTAURANT
(AND DELIVERY)
GRILL-RESTAURANTS
(AND DELIVERY)
PIZZERIA-PASTA
(AND DELIVERY)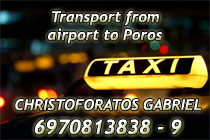 Suites & Spa
Heated pool with ozon,
gym, hydromassage,
hamam, sauna, massage,
body and facial treatments
Kanali is located after the small bridge that connects Progimnastirio with Soinikismo and it is only 5 minutes from the center of the town of Poros.
Kanali is a beautiful and organised sandy beach.

It has got tavernas over the sea with a wonderful view to the open sea. Also near, there are villas with rooms to let, bakeries, super market and mini market for family tourism. Every sunday evening to the tavernas there is live music.

At the same beach there is the tavern "Kanali", where you will find the full mediterranean cuizine with cooked food, pies and meat on the grill.
BOAT SUPPLY
DIESEL or PETROL

BOATS SUPPLIES
EVENTS AT POROS ISLAND
WE CHOSE FOR YOU THE
BEST TAVERNS AND RESTAURANTS AT POROS
GREEK CUISINE
AT ASKELI


GREEK CUISINE
AT NEORIO
GREEK CUISINE
AT THE HOTEL
SIRENE BLUE RESORT
GREEK CUISINE
AT KANALI
FISH TAVERNS AT POROS


TRADITIONAL TAVERNS
AT AGIOS GIORGIOS
COUNTRYSIDE TAVERN
IN FOUSA

With car in 1 hour
and 45 minutes

Speeches
Cultural Events
Concerts
Exhibitions
Gallery

Ferry Boat
Flying Dolphins
Buses - Timetable