WE CHOSE THE BEST PIZZERIES ITALIAN RESTAURANTS
& GRILL RESTAURANTS
AT POROS
SEA FOOD TAVERN
BEER PUB IN PUNDA
ITALIAN RESTAURANT
(AND DELIVERY)
GRILL-RESTAURANTS
(AND DELIVERY)
PIZZERIA-PASTA
(AND DELIVERY)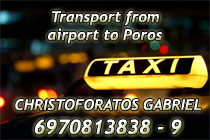 Suites & Spa
Heated pool with ozon,
gym, hydromassage,
hamam, sauna, massage,
body and facial treatments
The Love's Bay is a very romantic cove where one can enjoy the green and turquoise water swimming ... under the lush pine trees!

Once again, we have an organized beach with deck chairs and umbrellas.

Vessels of all sizes, small and large, are moored in the gulf several times adding extra glamour to the area.

Bus and taxi access is continuously available for visitors who want to travel from the Love's Bay to downtown Poros.

It's a good 45 minute walk.
At the organized beach there are beach chairs with umbrellas and a canteen, where you can have food and drink, also ice creams and other things.
BOAT SUPPLY
DIESEL or PETROL

BOATS SUPPLIES
EVENTS AT POROS ISLAND
WE CHOSE FOR YOU THE
BEST TAVERNS AND RESTAURANTS AT POROS
GREEK CUISINE
AT ASKELI


GREEK CUISINE
AT NEORIO
GREEK CUISINE
AT THE HOTEL
SIRENE BLUE RESORT
GREEK CUISINE
AT KANALI
FISH TAVERNS AT POROS


TRADITIONAL TAVERNS
AT AGIOS GIORGIOS
COUNTRYSIDE TAVERN
IN FOUSA

With car in 1 hour
and 45 minutes

Speeches
Cultural Events
Concerts
Exhibitions
Gallery

Ferry Boat
Flying Dolphins
Buses - Timetable